A MAEIL em parceria com a SUPPLY CHAIN MAGAZINE & APAT tem muito gosto em convidá-lo(a) a marcar presença na sessão gratuita dedicada ao tema: "Digitalização do Transporte Terreste, e-CMR", no próximo dia 9 de Junho a partir das 11h00, em formato Live-Stream.
Inscreva-se AQUI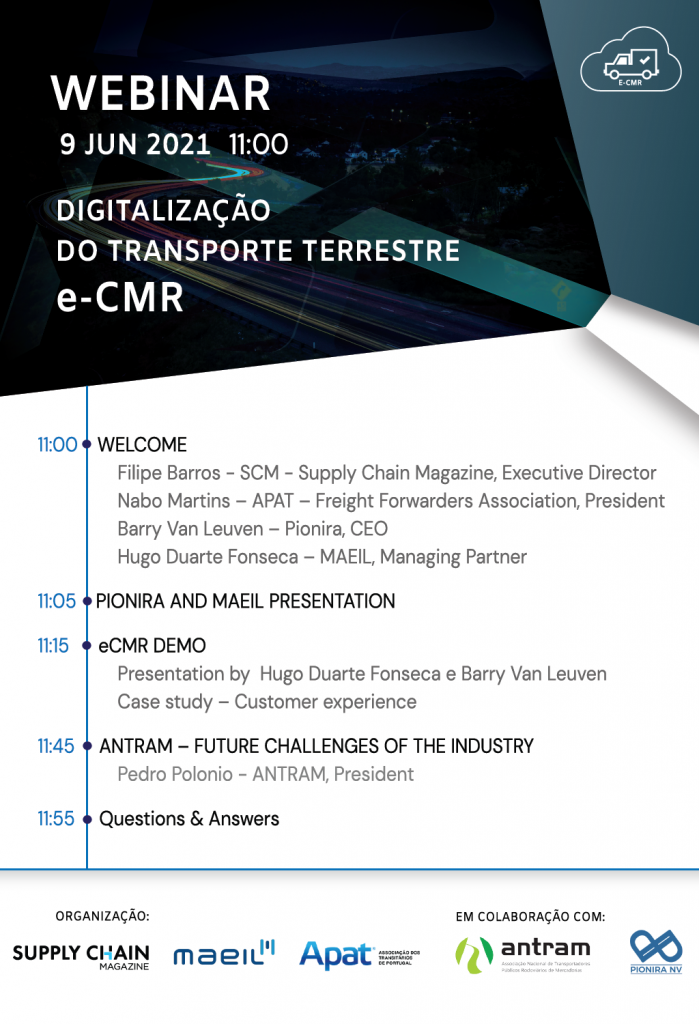 Nesta sessão pretende-se analisar a solução de desmaterialização do CMR – eCMR em Portugal e na Europa, dentro dos desafios digitais no transporte terrestre.
Confirme a sua presença, para receber o link de acesso à sessão.
Inscreva-se AQUI
Esperamos por si!
—————————————————————————————————————-
MAEIL in partnership with SUPPLY CHAIN MAGAZINE & APAT is very pleased to invite you to be present at the free session dedicated to the topic: "Digitization of Land Transport, e-CMR", on the 9th of June from from 11 am, in Live-Stream format.
Register here
This session intends to analyze the CMR – eCMR dematerialization solution in Portugal and Europe, within the digital challenges in land transport.
  Confirm your presence, to receive the link to access the session.
Register here
We are waiting for you!